We may earn money or products from the companies mentioned in this post.
This post is about school supplies you'll actually use for your college classes.
Remember shopping for school supplies when you were in middle school? I swear I got everything in the school supply aisles. As I moved to high school, that lessened significantly. When I got to college? Lessened even more.
After two years of community college, I have quite the system down for my extensive classes that require the most supplies.
Here's a look at the supplies I actually use for my college classes!
School Supplies You'll Actually Use
In-Class Materials
Stay tuned for a look at my lecture essentials – coming soon! For now, I'll give you an overview of the school supplies that I use in class.
Papermate Flair Felt Tip Pens – Colored
These are my favorite pens to take notes with in class. The notes I take in class are just my first draft – so I make them fun! I love picking a different color each day.
On Amazon: Papermate Flair
Five Star One-Subject Notebooks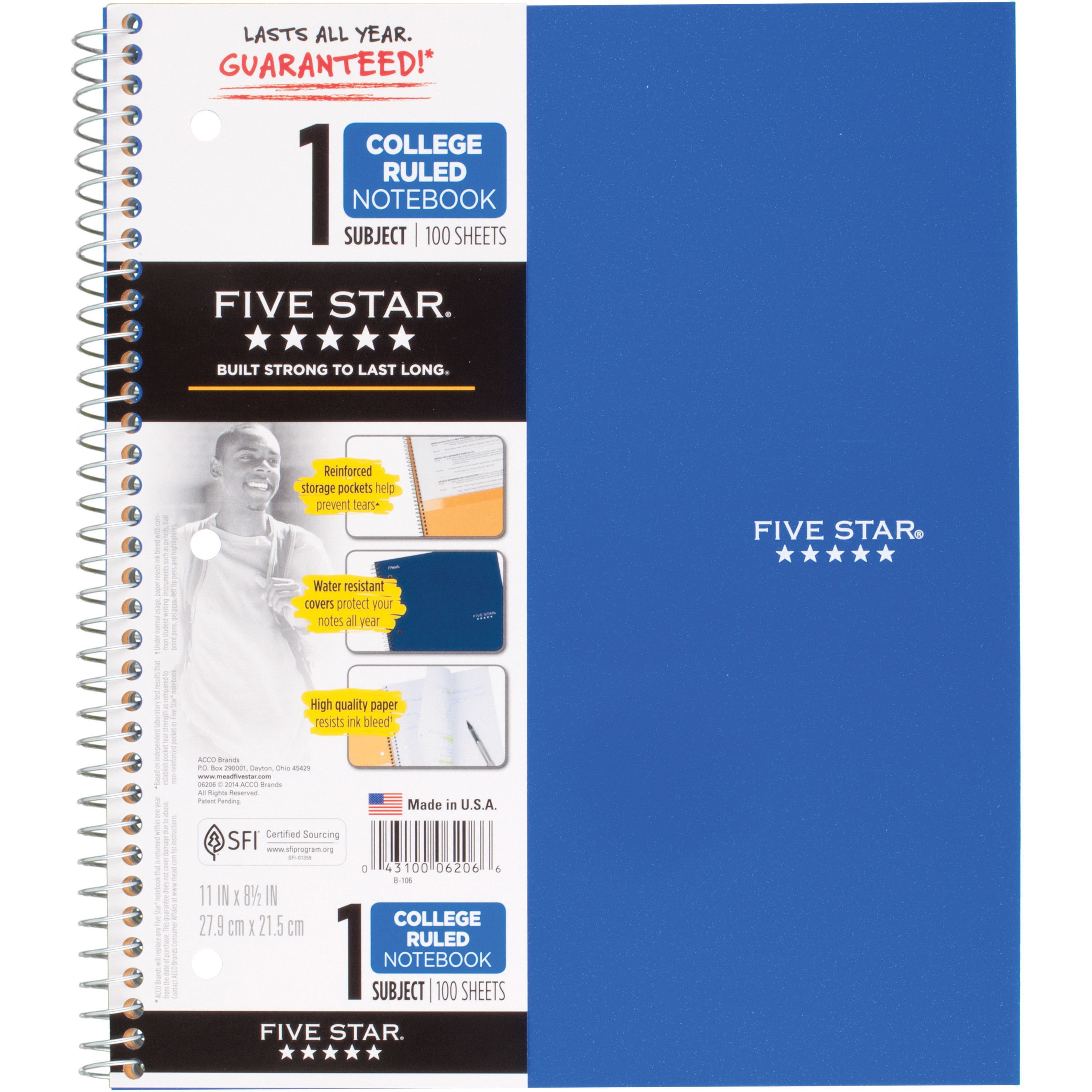 Since I ventured away from generic notebooks my mom bought by the box full, I've never gone back. Five Star products are a staple of my school supplies! My Papermate pens never bleed through them, and the pages are wide enough that I can fit tons of notes on just one page.
On Amazon: Five Star One Subject 6 Pack
Laptop and Charger
Once you hit college, you need a laptop – that's not even a question. I recommend investing in a good laptop. You'll carry it with you everywhere, too. I never leave my house without my laptop and charger in my backpack, and I'm sure I'll never leave my dorm without it once I move!
Here's the Laptop I use – Macbook Pro 15″
Study Materials
Here's where I use most of my school supplies. When I'm in class I use just a notebook and my colored pens. Maybe a pencil thrown in there when things get crazy. As for study time? That's when I break out the fancy stuff.
Plain 1 inch Binders
You can't go wrong with plain binders. I use them to hold my re-written notes and keep these binders in the dorm. They are definitely too bulky to carry to class everyday! Plus, I'm usually able to reuse them for two semesters since they don't get all beaten up in my backpack.
Get these on Amazon: Plain 1 inch Binders
Sharpie Yellow Gel Highlighters
If you've never used these highlighters before, they are probably the weirdest thing you've ever seen. They remind me of a crayon, but they're gel? Whatever they are, I love them so much more than traditional highlighters. I don't highlight in my books at all, but I highlight quite a bit in my notes. These definitely do the trick!
Get them on Amazon: Sharpie Yellow Gel Highlighters
Black and Red Papermate Flair Pens
The same pens that I use in class, but just black and red. I like to keep my notes without any colors other than red for consistency. I use red for vocab words, underlining, writing notes in the margins, etc. I use the black for everything else. I also highlight super important things with my gel highlighters.
Get them on Amazon:
In black: Papermate Flair Black
In red: Papermate Flair Red
Post-it Notes
I use a ton of post-it notes during tests and especially finals week. I use the post it notes to mark areas that I still need to study. I try to have them hanging slightly out of my notebook so I can see how much I still need to study before the test date. On the post-it note I write what I need to study from that section.
On Amazon: Yellow Post-It Notes
Five Star Reinforced Loose Paper
As I mentioned above, I swear by Five Star products. I rewrite all of my notes on this paper using my black and red Papermate pens! I then put the rewritten notes into the 1 inch binders listed above. I highlight super important things, and I study from these notes before tests. Stay tuned for a post on how I study for my college classes!
There you are! That's the bulk of my school supplies that help me stay organized. I know there isn't much, especially for in-class materials. When it comes to what you use to study, I think a solid routine with the same materials is the most effective in getting the best grades.
On Amazon: Five Star Reinforced Loose Paper
This post showed you school supplies you'll actually use in college.
Other Posts You May Like:
Pin For Later